Galleries
Photos from our 2016 special Christmas training
Every year we hold a special Christmas training (followed by a special Christmas party). See pictures from our 2016 event here
13 jo kata
See step-by-step images for the 13 jo (staff) kata (form) that we practice. →
Older Photos
Photos 2013
Recent photos from this year here.
Photos 2012
Here a few photos reminding us of special events in 2012..
Kids' aikido class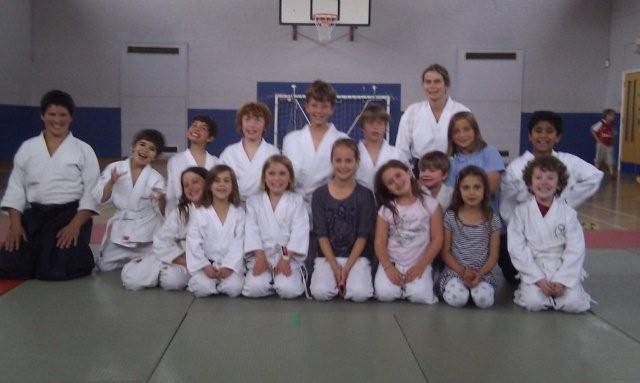 See more of our fantastic young aikidoka in action!
Chesterton sports centre dojo
We have a selection of photos from our first Thursday night training in the Chesterton sports centre dojo.
Training at the St Luke's Barn dojo
Just a couple of pictures from a Sunday night class at St Luke's.
Joint course, St Ives, 19/04/2008
Senseis Simon and George, along with Joe, taught a joint course during one Saturday afternoon. Tiring though it was, everyone really enjoyed it.
What does an aikido class look like?
If you have never been to an aikido class, and you want to know what you can expect to see, we have selected a few photos from our dojo which feature teachers and students training in various aspects of aikido.
"One does not need buildings, money, power, or status to practice the Art of Peace. Heaven is right where you are standing, and that is the place to train"
Morihei Ueshiba

Go to the top of the page